The HWS 512™ is perfect for anyone who wants fast target acquisition, reliability, durability, and the anyplace availability of AA batteries without the need for night-vision compatibility. The 512 is our most popular HWS in the lineup.
---
Included in the box:
HWS 512™
Quick-Start Guide
Warranty Card
2x AA Alkaline Batteries
Protective Case
Non-Night Vision Compatible
L X W X H
5.6" x 2.0" x 2.5" (142.2 x 50.8 x 63.5 mm)
Weight
11.5oz (326 g)
Water Resistant
10ft. (3 m) depth
Mount
1" Weaver or MIL-STD-1913 rail
Windage & Elevation Adjustment
0.5 MOA per click
Brightness
20 daylight settings
Power Source
2 x 1.5 V AA batteries - Supports lithium, alkaline or rechargable
Battery Life
Lithium: 2,500 continuous hours at nominal setting 12 at room temperature
Alkaline: 2,200 continuous hours at nominal setting 12 at room temperature
Operating Temperature
-40°F to 140°F (-40°C to 60°C)
Country of Origin
Made in USA
---
Reticle Options

EOTECH's unique reticle patterns are a critical to delivering fast target acquisition and MOA accuracy at any range. EOTECH reticles feature a 68 MOA ring surrounding a 1 MOA center dot allowing the shooter to quickly pick up and lock on a target.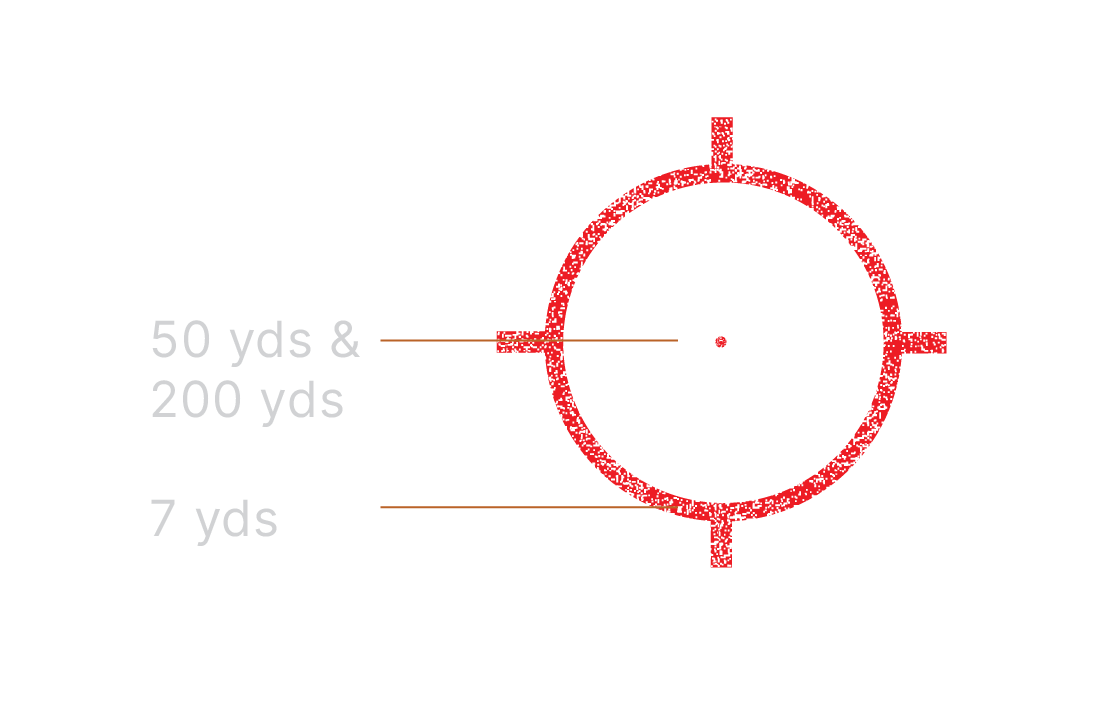 EOTECH One Dot Reticle
Our most popular reticle offered, the 68 MOA ring with 1 MOA dot provides three usable aiming points. The aiming points above are based on the following load: .223 cal. 62 gr. 2,900 vel. When using other loads and calibers, the operator will have to establish the ranges associated with the aiming points. When using a shotgun, the 68 MOA ring can be used to represent shot patterns but will vary based on choke and shell selection. For ordering this reticle, the model codes will end in -0.
---
Range Estimation with Unmagnified HWS
The standard ring found in most reticles equates to approximately 68" (5'8") at 100 yards.
---
Brightness Options
The 512™ HWS offers multiple brightness settings offering quick adjustability to accommodate any shooting situation.